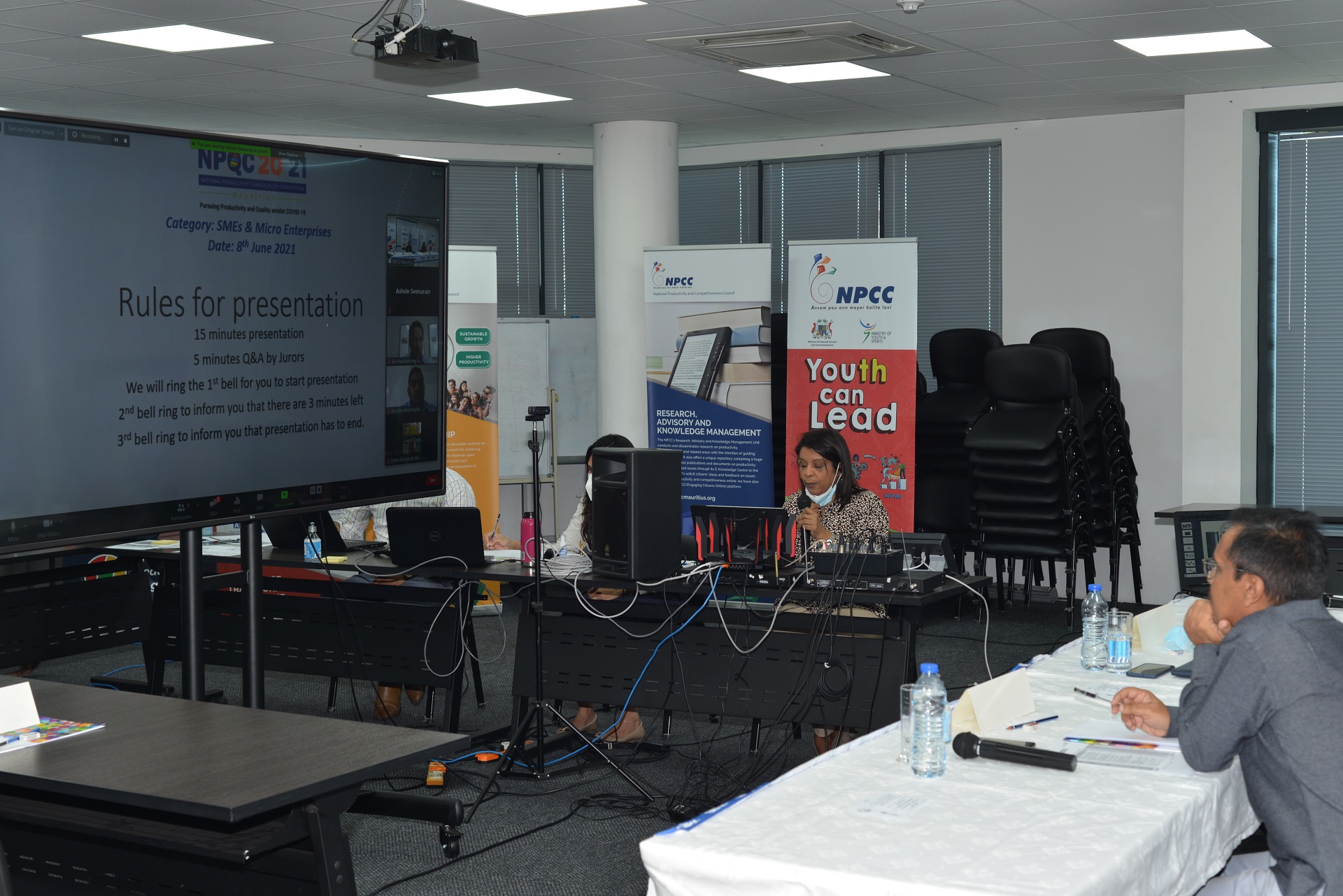 Ebène, 08 June 2021: The assessments of projects by local organisations participating in the third edition of the National Productivity and Quality Convention (NPQC 2020/2021) are taking place from Tuesday 8 to Friday 11 June, taking the project one step ahead on the project's timeline. This current edition's theme is "Pursuing Productivity and Quality amidst Covid-19" and is being held on a purely online basis owing to the sanitary restrictions presently in force.
A total of 51 local organisations, including 27 Small and Medium Enterprises (SMEs), 11 large private enterprises and 13 Government departments, parastatals and registered associations will present their productivity and quality driven projects for assessment by local jurors.
Each company will be allotted 15 minutes to present their projects followed by five minutes of questions and answers. This year, members of the public are being invited to follow the presentations through Zoom. Details on the registration links are available here.
According to the Executive Director of the NPCC, Mr. Ashit Gungah, the present business climate marred by the impacts of the Covid-19 should trigger organisations to drive productivity and quality in their operations as well as to develop new products as per the needs of the moment.
"This in turn will help our industries become more resilient and competitive in the regional and international markets. The NPQC has emerged as the platform where local companies can get the opportunity to showcase their own achievements in terms of productivity and quality and at the same time, learn from the experience of their peers in their respective industries," Mr. Gungah points out.
The participating organisations will compete for Gold, Silver and Bronze awards. The Gold Awardees will be assessed by a panel of international jurors on 29 June and six among them will be distinguished as the Grand Winners. The international jury will be composed of Mr. D.K Srivastava, Executive Director of the Quality Circle Forum of India (QCFI), Mr. Jens Dyring Christensen, Senior Specialist for Sustainable Enterprises and Job Creation at the International Labour Organisation (ILO) and Mr. Getahun Tadesse Mekonen, Founder of the Ethiopian Kaizen Institute.
The NPQC encourages organisations to share their best operational practices, processes and systems. It provides an opportunity to celebrate the achievements of teams that have been responsible for creating and/or managing productivity and quality improvements at their workplace.