Other latest reports
Visitors here can find an array of publications related to productivity, competitiveness, quality and economy released by different stakeholders. You may also visit the Archives section for past publications.
Productivity and Competitiveness Indicators - 2012-2022
In 2022, labour input for the whole economy increased by 6.5%, after declining by 6.4% in 2021; while GVA rose by 9.8% in 2022, after an increase of 4.0% in 2021. Thus, labour productivity for the economy rose by 3.1% in 2022, after an increase of 11.1% in 2021. Labour productivity for the Manufacturing sector increased by 11.9% in 2022, compared to an increase of 15.2% in 2021 and that of EOE witnessed a rise of 13.1% in 2022 after increasing by 21.1% in 2021.

Capital productivity for the whole economy rose by 7.6% in 2022 after the growth of 2.3% in 2021. For the Manufacturing sector, it moved up by 11.1% in 2022 after increasing by 12.1% in 2021. For EOE, it increased by 14.8% in 2022 after rising by 11.8% in 2021.
In 2022, Unit Labour Cost (in rupees) for the economy rose by 2.8% after an increase of 5.3% in 2021 and that of the manufacturing sector rose by 10.9% after increasing by 7.0% in 2021. For EOE, ULC registered an increase of 3.3% in 2022 after a rise of 8.8% in 2021. In Dollar terms, ULC in 2022 fell by 2.8% for the whole economy and that for Manufacturing sector increased by 4.8%, whilst it fell by 2.3% for EOE.
Click here to download the report.
Environment Statistics - 2022
Greenhouse gas (GHG)
GHG emissions increased by 3.1% from 2021 to 2022. Gross emissions went up from 5,472 to 5,642 thousand tonnes of carbon dioxide equivalent and net emissions, after absorption by forest and land use practices from 5,136 to 5,308 thousand tonnes carbon dioxide equivalent.
In 2022, the energy sector accounted for the largest share of emissions (78.3%), followed by the waste sector (10.8%).
Solid waste
In 2022, solid waste landfilled at Mare Chicose weighed 494,073 tonnes, 1.4% less than in 2021 (501,167 tonnes).
Land use
Between 2021 and 2022, the harvested area under cultivation of sugarcane decreased by 6.4% from 41,897 hectares to 39,199 hectares; tea plantation decreased from 669 hectares in 2021 to 659 hectares in 2022; and food crops decreased by 2.9% from 8,004 hectares to 7,770 hectares.
Water
In 2022, the Island of Mauritius received 4,105 million cubic metres of water rainfall, 8.7% higher when compared to 3,776 million cubic metres in 2021.
Total water utilisation was estimated at 1,064 million cubic metres in 2022. Hydropower accounted for 40%, the domestic, industrial and tourism sector for 31% and the remaining 29% was used by the agricultural sector.
Complaints
Complaints attended by the Pollution Prevention and Control Division of the Ministry of Environment, Solid Waste Management and Climate Change increased by 9.9% from 689 in 2021 to 757 in 2022.
The complaints were mainly due to: other complaints including backfilling, erosion, illegal construction amongst others (33%), noise (18%), bare land (12%) and air pollution (11%).
Click here to download the report.
Global Multidimensional Poverty Index 2023
The global MPI both monitors poverty reduction and informs policy, showing how people experience poverty in different aspects of their daily lives – from access to education and health, to living standards such as housing, drinking water, sanitation, and electricity. The MPI as a poverty index can be pictured as a stacked tower of the interlinked deprivations experienced by poor individuals, with the aim of eliminating these deprivations.
According to the 2023 release, 1.1 billion out of 6.1 billion people (just over 18%) live in acute multidimensional poverty across 110 countries. Sub-Saharan Africa (534 million) and South Asia (389 million) are home to approximately five out of every six poor people.
Nearly two-thirds of all poor people (730 million people) live in middle-income countries, making action in these countries vital for reducing global poverty. Although low-income countries constitute only 10% of the population included in the MPI, these are where 35% of all poor people reside.
Children under 18 years old account for half of MPI-poor people (566 million). The poverty rate among children is 27.7%, while among adults it is 13.4%. Poverty predominantly affects rural areas, with 84% of all poor people living in rural areas. Rural areas are poorer than urban areas across all regions of the world.
Click here to download the report.
Gender Statistics - Mauritius - July 2023
(i) In 2022, the population comprised 638,462 women compared to 623,787 men. Women outnumbered men by 14,675 as they lived on average 7 years longer than men.
(ii) Women continue to give birth to fewer children than in the past.
(iii) Both men and women are getting married at an older age and the age difference between them is narrowing over time.
(iv) More women than men were enrolled in tertiary institutions but there were fewer women in research (PhD, MPhil and DBA).
(v) Only 10.4% of working women were heads of business compared to 28.3% among men.
(vi) Unemployed women were equally qualified as their male counterparts: 16.2% women possessed tertiary qualifications, same as men.
(vii) Women are largely under-represented in decision making at higher sphere of society: the number of female ministers was only 3 out of 21.
(viii) The proportion of women in the most senior positions in government services (Senior Chief Executive, Permanent Secretary, Deputy Permanent Secretary, (Director, Manager, Judge and Magistrate) was 38.6%.
(ix) Among victims of domestic violence, 82.1% were women and 17.9% were men.
(x) Some 4,293 men were victims of homicides and assaults compared to 4,150 women whereas 568 women were victims of sexual violence and sexual exploitation compared to 44 men.
(xi) Women participated less than men in sports as high level athletes (64.7% men against 35.3% women).
(xii) According to the Global Gender Gap Index (GGI) of the World Economic Forum, Mauritius was ranked 105 out of 146 countries worldwide. The GGI measures gender equality across four key areas, namely: (a) economic participation and opportunity, (b) educational attainment, (c) health and survival and (d) political empowerment.
Click here to download the report.
Housing and Population Census 2022
Statistics Mauritius conducted its decennial Housing and Population Census in the year 2022, with the Housing Census conducted in May 2022 and the Population Census in July 2022. Preliminary results of the census were published in November 2022.
After publication of the preliminary results, Statistics Mauritius proceeded with further processing of the census data which consisted of editing, coding and tabulation of the data. The tabulation report has now been completed for the Housing Census. The report may now be accessed at the following link, under the heading 'Table Reports'.
Click here to download the report.
Quarterly National Accounts 1st Quarter 2023
GVA growth rate for the fourth quarter of 2022 over the corresponding quarter of 2021 is maintained at 8.3% as estimated in March 2023.
Total GVA growth rate for the first quarter of 2023 over the corresponding quarter of 2022 is estimated at 6.0%.
GDP at market prices increased by 5.5% during the first quarter of 2023 compared to the growth of 6.1% registered in the corresponding quarter of 2022.
Click here to download the report.
Global Gender Gap Report 2023
The global gender gap score in 2023 for all 146 countries included in this edition stands at 68.4% closed. Considering the constant sample of 145 countries covered in both the 2022 and 2023 editions, the overall score changed from 68.1% to 68.4%, an improvement of 0.3 percentage points compared to last year's edition.
According to the 2023 Global Gender Gap Index no country has yet achieved full gender parity, although the top nine countries (Iceland, Norway, Finland, New Zealand, Sweden, Germany, Nicaragua, Namibia and Lithuania) have closed at least 80% of their gap. For the 14th year running, Iceland (91.2%) takes the top position. It also continues to be the only country to have closed more than 90% of its gender gap.
- The global top five is completed by three other Nordic countries – Norway (87.9%, 2nd), Finland (86.3%, 3rd) and Sweden (81.5%, 5th) – with one country from East Asia and the Pacific – New Zealand (85.6%, 4th) – ranked 4th. Additionally, from Europe, Germany (81.5%) moves up to 6th place (from 10th), Lithuania (80.0.%) returns to the top 10 economies, taking 9th place, and Belgium (79.6%) joins the top 10 for the first time in 10th place. One country from Latin America (Nicaragua, 81.1%) and one from Sub-Saharan Africa (Namibia, 80.2%) – complete this year's top 10, taking the 7th and 8th positions, respectively. The two countries that drop out of the top 10 in 2023 are Ireland (79.5%,11th, down from 9th in 2022) and Rwanda (79.4%, 12th, down from 6th).
Click here to download the full report.
Click here to download the section on Mauritius.


African Economic Outlook 2023
The African Economic Outlook 2023 is being published as African countries are dealing with multiple shocks, including the effects of the COVID-19 pandemic, disruptions to global supply chains due to Russia's prolonged invasion of Ukraine and a tightening of global financing conditions. These shocks have reduced the continent's real GDP growth from 4.8 percent in 2021 to 3.8 percent in 2022. However, African economies remain resilient, with average growth projected to stabilize at 4.1 percent in 2023–24.
The African Economic Outlook 2023 underscores the urgency to fast-track climate action and green transitions to drive the continent's inclusive and sustainable development.
The report also highlights the important role of Africa's huge natural capital, valued at $6.2 trillion in 2018, in bridging the prevailing climate finance gap and promoting green growth transitions. Through sustainable management, Africa's abundant natural capital can be transformed into financial assets to complement financing for climate adaptation and mitigation, as well as into investments that support green growth transitions.
Click here to download the report.
Chief Economist Outlook - World Economic Forum May 2023
While there are signs of nascent optimism, the banking disruption of March 2023 has caused tremors in the global outlook.
The most buoyant economic activity is expected in Asia, with China's reopening projected to bolster activity across the continent. For China itself, chief economists are near unanimous in expecting a significant rebound this year.
Almost 80% of chief economists think central banks now face a trade-off between managing inflation and maintaining financial sector stability.
Click here to download the report.

APO Productivity Outlook 2022
This is the inaugural edition of the APO Productivity Outlook series. The report underscores that productivity gains in the manufacturing sector are essential in driving long-term sustainable economic growth regardless of a country's stage of development.
Under the impact of the COVID-19 pandemic, manufacturing is expected to play an even more prominent role in enabling rebound and fostering resilience in coming years. The positive contributions of global value chains and ICT development hold the key to manufacturing labor productivity improvement in the long run.
In the short term, the COVID-19 pandemic is projected to lower manufacturing productivity growth through weakened investment and supply-chain linkages across the globe.
Despite this dim outlook, however, the adoption of new digital technologies that are being accelerated in response to the pandemic-induced recessions is foreseen to offer novel opportunities to rebound the productivity growth.
Not all countries benefit from ICT investment as it has to be accompanied with sufficient support for complementary factors, including management practices and workers' skills.
Even with the advancement of ICT and transition to the knowledge-and-digital economy, the manufacturing sector still plays a pivotal role in determining a country's international competitiveness by integrating the country's economy into the GVC.
Click here to download the report.
Future of Jobs Report 2023 (World Economic Forum
The Future of Jobs Report 2023 explores how jobs and skills will evolve over the next five years. This fourth edition of the series continues the analysis of employer expectations to provide new insights on how socio-economic and technology trends will shape the workplace of the future.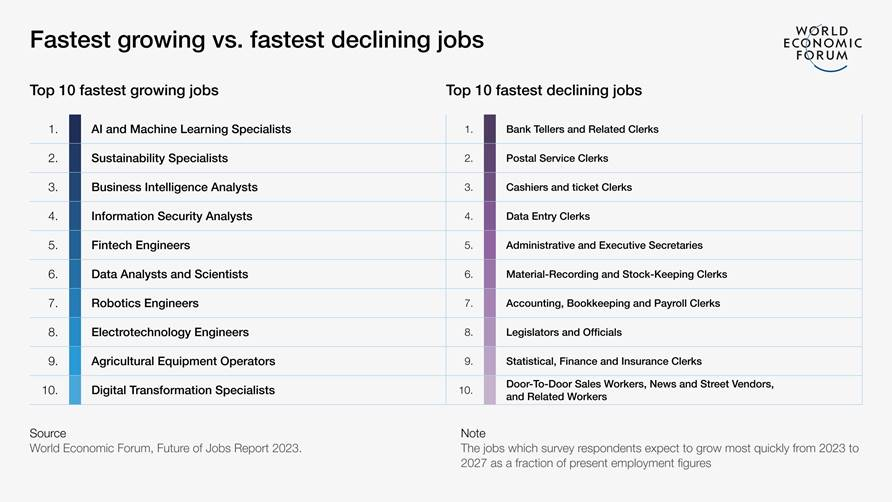 Click here to download the report.
World Economic Outlook April 2023
The global economy remains on track for a gradual recovery from the pandemic and Russia's war in Ukraine. China's reopened economy is rebounding strongly. Supply chain disruptions are unwinding while the dislocations to energy and food markets caused by the war are receding.
Global growth will bottom out at 2.8 percent in 2023 before rising modestly to 3 percent in 2024.
The appropriate course of action is contingent on the state of the financial system. Monetary policy should stay firmly focused on bringing inflation down.
Click here to download the report.
World Happiness Report 2023
Finland is the world's happiest country, according to World Happiness Report rankings based largely on life evaluations from the Gallup World Poll. The report, which is a publication of the UN Sustainable Development Solutions Network, draws on global survey data from people in more than 150 countries. Countries are ranked on happiness based on their average life evaluations over the three preceding years, in this case 2020 to 2022.
Benevolence to others, especially the helping of strangers, which went up dramatically in 2021, stayed high in 2022.Global happiness has not taken a hit in the three years of the Covid-19 pandemic. Life evaluations from 2020 to 2022 have been remarkably resilient," according to the report.
On the African continent, Mauritius takes the top spot, with a happiness score of 5.902, followed by Algeria with a score of 5.392, while South Africa is ranked in third place, scoring of 5.275.
Click here to download the report.