Other latest reports
Visitors here can find an array of publications related to productivity, competitiveness, quality and economy released by different stakeholders. You may also visit the Archives section for past publications.


Women, Business and the Law 2022 (WBL2022)
WBL2022 presents an index covering 190 economies and structured around the life cycle of a working woman produced by the World Bank Group. In total, 35 questions are scored across eight indicators. Overall scores are then calculated by taking the average of each indicator, with 100 representing the highest possible score. Data refer to the laws and regulations that are applicable to the main business city (Port Louis). Different rules may apply in other jurisdictions so local legislation should be reviewed.
Mauritius
Based on this approach, Mauritius scores 89.4 out of 100. The overall score for Mauritius is higher than the regional average observed across Sub-Saharan Africa (71.5). Within the Sub-Saharan Africa region, the maximum score observed is 89.4 (Mauritius).
Download the report here.
Download the extract for Mauritius here.
World Economic Outlook January 2022
The global economy enters 2022 in a weaker position than previously expected. Global growth is expected to moderate from 5.9 in 2021 to 4.4 percent in 2022—half a percentage point lower for 2022 than in the October World Economic Outlook (WEO), largely reflecting forecast markdowns in the two largest economies.

Global growth is expected to slow to 3.8 percent in 2023. The forecast is conditional on adverse health outcomes declining to low levels in most countries by end-2022, assuming vaccination rates improve worldwide and therapies become more effective.
Elevated inflation is expected to persist for longer than envisioned in the October WEO, with ongoing supply chain disruptions and high energy prices continuing in 2022.
With the pandemic continuing to maintain its grip, the emphasis on an effective global health strategy is more salient than ever.

Monetary policy in many countries will need to continue on a tightening path to curb inflation pressures, while fiscal policy—operating with more limited space than earlier in the pandemic—will need to prioritize health and social spending while focusing support on the worst affected.

In this context, international cooperation will be essential to preserve access to liquidity and expedite orderly debt restructurings where needed. Investing in climate policies remains imperative to reduce the risk of catastrophic climate change.
Download the report here.
Sustaining the COVID-era attitudes for the long run
The current business failure rate remains relatively low due to the support policies which the government has put in place, including wage assistance schemes, loan repayment deferral, the launch of the Mauritius Investment Corporation (MIC) as well as other temporary insolvency relief.
However, a world post COVID-19 has become more complex, and the reality has radically shifted, with profound changes in the business environment.
The shift of commerce, education and entertainment to online channels is forcing businesses to change processes and workflows as a way to increase digital interactions.
Many local companies are looking to accelerate their digital initiatives in the coming years and adapt their traditional bricks and mortar businesses models across industries to new digital enabled ones. In doing so, businesses will remain relevant and sustainable in the new world.
The future of work is hybrid: The blend between physical and digital will require employee training on digital skills, and greater virtual collaboration would mean less business travel. Greater emphasis on employee health and well-being may be required in this remote working environment.
The pandemic has had a severe impact on liquidity and a turnaround is often required to avoid insolvency. As profits get eroded, it is important for leaders to develop restructuring / turnaround plans rapidly to not only respond and recover from the crisis, but also to offer a long-term perspective.
Rather than focusing on multiple strategies, it is better to focus on a few strategic actions that will ensure the business survives and returns to profitability (with limited resources) whilst ensuring that it lays the foundations for continued success in the post COVID-19 environment.
There is no longer a focus solely on profitability but a review of a broader set of performance indicators such as environmental, sustainability and employee engagement.
An innovation mindset (to reimagine the present, productivity and collaboration) will need to continue to keep developing more sustainable business models.
Download the report here.
World Economic Forum - Chief Economists Outlook - November 2021
On account of such a new, more aggressive variant that spread rapidly across the world, growth forecasts had to be revised downwards in the latest projections. The IMF predicts 5.9% global growth for this year, down from 6% (with some major downward adjustments for individual countries); the OECD revised its 2021 forecasts down to 5.7% in its September Interim Outlook.
Beyond the virus trajectory, the top risks to the recovery have started to change from a feared delayed wave of bankruptcies to policy mistakes in managing evolving inflation dynamics, especially the repercussions on financial markets in emerging economies.
Reflections on policy lessons from 2021
Fiscal and monetary policy are powerful allies when combined within a strong institutional framework.
2. It has proven easier to support demand than to restore supply, yet mechanisms for targeting fiscal support effectively are still lacking.
3. Short-term crises can be handled by government intervention, setting normal market forces aside; this is looking a lot more challenging for long-term crises.
4. Protecting the social fabric during crises has tremendous positive pay-offs for the subsequent recovery.
5. Digitalization can play a key role in helping vulnerable groups, such as small businesses and less educated workers, get back on their feet if policy-makers can tackle barriers to digital adoption.
6. Emerging market economies need better social safety nets and, first and foremost, data on vulnerable segments of the population.
7. Public health is an economic issue, and COVID-19 is the principal determinant of the recovery. Therefore, virus suppression should be a primary economic policy.
8. Effective public health strategies are very difficult to implement in the face of political polarization.
9. In emergencies, countries retreat to national self-interest (here, on vaccine distribution), but globalization and multilateralism are more alive than is commonly portrayed.
10. Successful public-private partnership models of the kind realized for vaccine development need to be better leveraged and deployed across borders for other global challenges such as the green transition.

Download the report here.
Productivity and Competitiveness Indicators, 2010 -2020
Labour productivity for the economy declined by 9.7% in 2020, after an increase of 1.6% in 2019. Labour productivity for the Manufacturing sector fell by 12.5% in 2020, compared to a growth of 1.6% in 2019 and that of EOE witnessed a decline of 14.5% in 2020 after a rise of 6.6% in 2019.
Capital productivity for the economy fell by 15.5% in 2020 compared to a fall of 0.3% in 2019, and that for Manufacturing declined by 13.6% in 2020 after an increase of 2.8% in 2019. For EOE, it fell by 17.1% in 2020 after a decline of 1.0% in 2019.
The average annual change in Multi- Factor Productivity (MFP) during the period 2010 to 2020 worked out to -0.4%. In 2020, MFP fell by 12.8% compared to an increase of 0.3% in 2019.
In 2020, Unit Labour Cost- ULC (in rupees) for the economy rose further by 7.9% after an increase of 0.2% in 2019 and that of the manufacturing sector rose by 7.3% after increasing by 1.7% in 2019. For EOE, ULC registered an increase of 12.2% in 2020 after a rise of 6.6% in 2019. In Dollar terms, ULC in 2020 fell by 1.9% and 2.4% for the whole economy and Manufacturing sector respectively, whilst it increased by 2.0% for EOE.
Download the report here.
World Bank Report - Mauritius through the eyes of a perfect storm
Mauritius through the eye of a perfect storm -coming back stronger from the COVID crisis
On July 1, 2020, Mauritius officially joined the ranks of High-Income Countries (HIC). As Mauritius reaches High-Income level, a new generation of reforms is needed.
Policy Recommendations
Close the Skills Gap
Better coordination of the skills development system (SHORT TERM)
Compete for foreign talent (SHORT TERM)
Reform National Training Fund (NTF) for better use of funding (SHORT TERM), complementing with cost effectiveness analysis of existing programs and additional innovative funding (MEDIUM TERM)
Increase relevance and attractiveness of TVET (MEDIUM TERM)
Promote Competition
Focus on competition in priority sectors for investment (including upstream) (SHORT TERM)
Review regulatory measures for unintended obstacles to market entry (SHORT TERM)
Strengthen the legal mandate, processes, and independence of the Competition Commission (MEDIUM TERM)
Review territorial exclusivity arrangements (MEDIUM TERM)
Open Space for PPPs
Example: Resolve policy uncertainty in Solid Waste Management
Example: Address regulatory anomalies in the port

Manage natural resources (and threats)
Example: Managing fisheries
Example: Managing Disaster Risk

Redirect State Support towards Innovation
Reform State Support tools at odds with modern industrial policy paradigm (SHORT TERM)
Conduct a Comprehensive Review of State Support (SHORT TERM)
Strengthen coherence and coordination across innovation programs (SHORT TERM)
Improvements to key programs (SHORT TERM)
Increase transparency and M&E for state and innovation support (MEDIUM TERM)

Adjust Covid-19 response
Move towards more flexible adjustment support for the tourism / hospitality sector (SHORT TERM)
Beyond tourism, future support should focus on Covid-specific disruptions

Leverage FDI
Strengthen FDI promotion efforts (SHORT TERM)
Support outward FDI (SHORT / MEDIUM TERM)
Streamline the policy framework for FDI (MEDIUM TERM)

Take advantage of new trade agreements
Use preferential market access to develop new merchandise exports (SHORT-TERM)
Market Mauritius as a beachhead for services FDI into Africa (SHORT-TERM)
Seek a deep trade and investment agreement with an advanced economy that would align Mauritian practices to OECD level ones, and consider OECD membership. (MEDIUM-TERM)
Increase the share of remotely delivered services (MEDIUM-TERM)
Address price distortions
Avoid exchange rate overvaluation while managing short term fluctuations (SHORT-TERM)
Improve data collection on global business-related flows (MEDIUM-TERM
More efficient social protection
Reallocate funding from Basic Pension to targeted social protection programs (SHORT-TERM)

Support labor market participation of disadvantaged groups
Consolidate job support programs and make them more comprehensive (MEDIUM-TERM)
Address obstacles to women's labor force participation (MEDIUM-TERM
Provide targeted support to youth (MEDIUM-TERM)
More inclusive education
Address disparities in learning outcomes (MEDIUM-TERM)
Provide more opportunities for second chance education (MEDIUM-TERM)
Improve Policy Coherence
Strengthen Public Financial Management (MEDIUM-TERM)
Develop an agile national planning system (MEDIUM-TERM)

Focus on Implementation
Talent and change management (SHORT-TERM)
Leverage future deep trade agreements with major advanced economies to push the reform agenda on a time bound schedule. (MEDIUM-TERM)
Strengthen M&E capacity (MEDIUM-TERM)
Strengthen Public Private Dialogue
Strengthen public private dialogue (MEDIUM-TERM)
Download the report here.

MCB Focus No. 83 - Economic Update
On the heels of the afore-mentioned developments, baseline forecast of real GDP growth at market prices for 2021 was downgraded for internal purposes since April and now stands at 4.8%, i.e. close to the recently-updated IMF projection for Mauritius and the latest World Bank forecast.
Download the report here.
Consumer Price Index 1st Quarter 2021
The Consumer Price Index, which stood at 106.1 in December 2020, registered a net increase of 2.4 points (or 2.3%) to reach 108.5 in March 2021.
The headline inflation rate for the twelve months ending March 2021 worked out to 2.2%, compared to 1.2% for the twelve months ending March 2020.
The headline inflation rate excluding "Alcoholic beverages and tobacco" for the twelve months ending March 2021 worked out to 2.3%, compared to 1.2% for the twelve months ending March 2020.
Download the report here.
World Economic Outlook April 2021
Key Highlights
After an estimated contraction of –3.3 percent in 2020, the global economy is projected to grow at 6 percent in 2021, moderating to 4.4 percent in 2022.
Mauritius- GDP is expected to grow at 6.6 percent in 2021 after a contraction of -15.8 percent in 2020.
Future developments will depend on the path of the health crisis, including whether the new COVID-19 strains prove susceptible to vaccines or they prolong the pandemic; the effectiveness of policy actions to limit persistent economic damage (scarring); the evolution of financial conditions and commodity prices; and the adjustment capacity of the economy.
Policy priorities
Countries will need to tailor their policy responses to the stage of the pan[1]demic, strength of the recovery, and structural characteristics of the economy.
Once vaccination becomes widespread and spare capacity in health care systems is generally restored to pre-COVID-19 levels, restrictions can begin to be lifted.
Then, as the recovery progresses, policy-makers will need to limit long-term economic scarring with an eye toward boosting productive capacity (for example, public investment) and increasing incentives for an efficient allocation of productive resources.
All the while, long-term challenges—boosting productivity, improving policy frameworks, and addressing climate change—cannot be ignored.
The international community also needs to work together to ensure that financially constrained economies have adequate access to international liquidity so that they can continue needed health care, other social, and infrastructure spending required for development and convergence to higher levels of income per capita.
Download the report here.

Global Gender Gap Index 2021
Highlights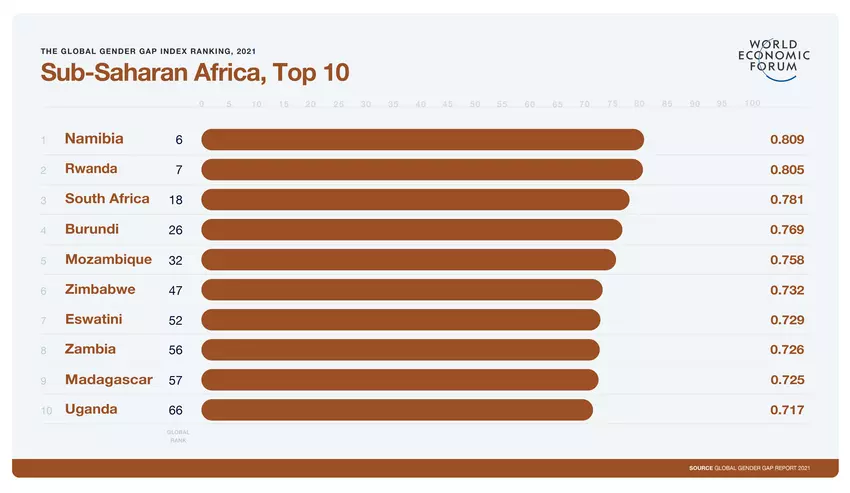 The Global Gender Gap Index benchmarks the evolution of gender-based gaps among four key dimensions (Economic Participation and Opportunity, Educational Attainment, Health and Survival, and Political Empowerment) and tracks progress towards closing these gaps over time.
This year, the Global Gender Gap index benchmarks 156 countries, providing a tool for cross-country comparison and to prioritize the most effective policies needed to close gender gaps.
Mauritius ranks 110 out of 156 countries.
Only 52.8% of women are in the labour force.
Download the report here.
Download the extract for Mauritius here.

Export Oriented Enterprises (EOE)
Key highlights
EOE consist of enterprises previously operating with an EPZ Certificate as well as enterprises manufacturing goods for exports and holding a registration certificate issued by the ex-Board of Investment.
Compared to the third quarter of 2020, total employment in EOE decreased by 3,861 (-9.5%) from 40,597 to 36,736. Some 4,405 jobs were lost due to the contraction of workforce and closure of enterprises whilst 544 jobs were created due to expansion in existing enterprises. Employment of Mauritians went down by 2,431 (-11.3%) from 21,551 to 19,120 and that of foreign workers decreased by 1,430 (-7.5%) from 19,046 to 17,616.
EOE exports during the fourth quarter of 2020 amounted to R 11,088 million, 3.2% lower compared to the third quarter of 2020 and 10.4% higher compared to the fourth quarter of 2019. EOE imports during the fourth quarter of 2020 amounted to R 5,940 million, 11.0% higher than the third quarter of 2020 and 1.9% lower than the fourth quarter of 2019. (Source: Statistics Mauritius)
Download the analysis here.
Download the tables here.

Macro Poverty Outlook (MPO) Mauritius


Download the report here.
More Reports

Worldwide Cost of Living 2020-How is Covid-19 affecting the prices of consumer goods?
Global Economic Prospects - January 2021
Global Economic Prospects January 2021 Regional Overview
World Happiness Report 2021
Monitoring the Socio-Economic Effects of COVID-19 on Mauritian Households – Dec 2020
Quarterly National Accounts 4th Quarter 2020

2020 Ibrahim Index of African Governance
How do Mauritians feel about their health
Regional Economic Outlook Sub- Saharan Africa Oct 2020
World Economic Outlook Future of Jobs 2020
Consumer Price Index 3rd Quarter 2020
World Economic Outlook 2020
Monthly External Merchandise Trade Statistics - July 2020
Global Innovation Index 2020
Population and Vital Statistics - Jan - Jun 2020

Regional Model Code on Anti Corruption Compliance for Enterprises
Global Productivity: Trends, Drivers, and Policies-World Bank 2020
Road Transport and Road Traffic Accident Statistics - January – June 2020
External trade-2nd Quarter 2020

Covid-19 and Transforming Tourism
Monitoring the Socio-Economic Effects of Covid-19 on Mauritian Households
Gender Statistics 2019
MCB Focus - Mauritius Inc.: Transitioning to a green economy
Productivity and Competitiveness Index 2009-2019
A Crisis Like No Other, An Uncertain Recovery
How COVID-19 is changing the world: a statistical perspective (April 2020)
COVID-19 pandemic and its economic impacts across Africa (Mauritius) (April 2020)
First comprehensive survey on the COVID-19 pandemic and its economic impacts across Africa (April 2020)