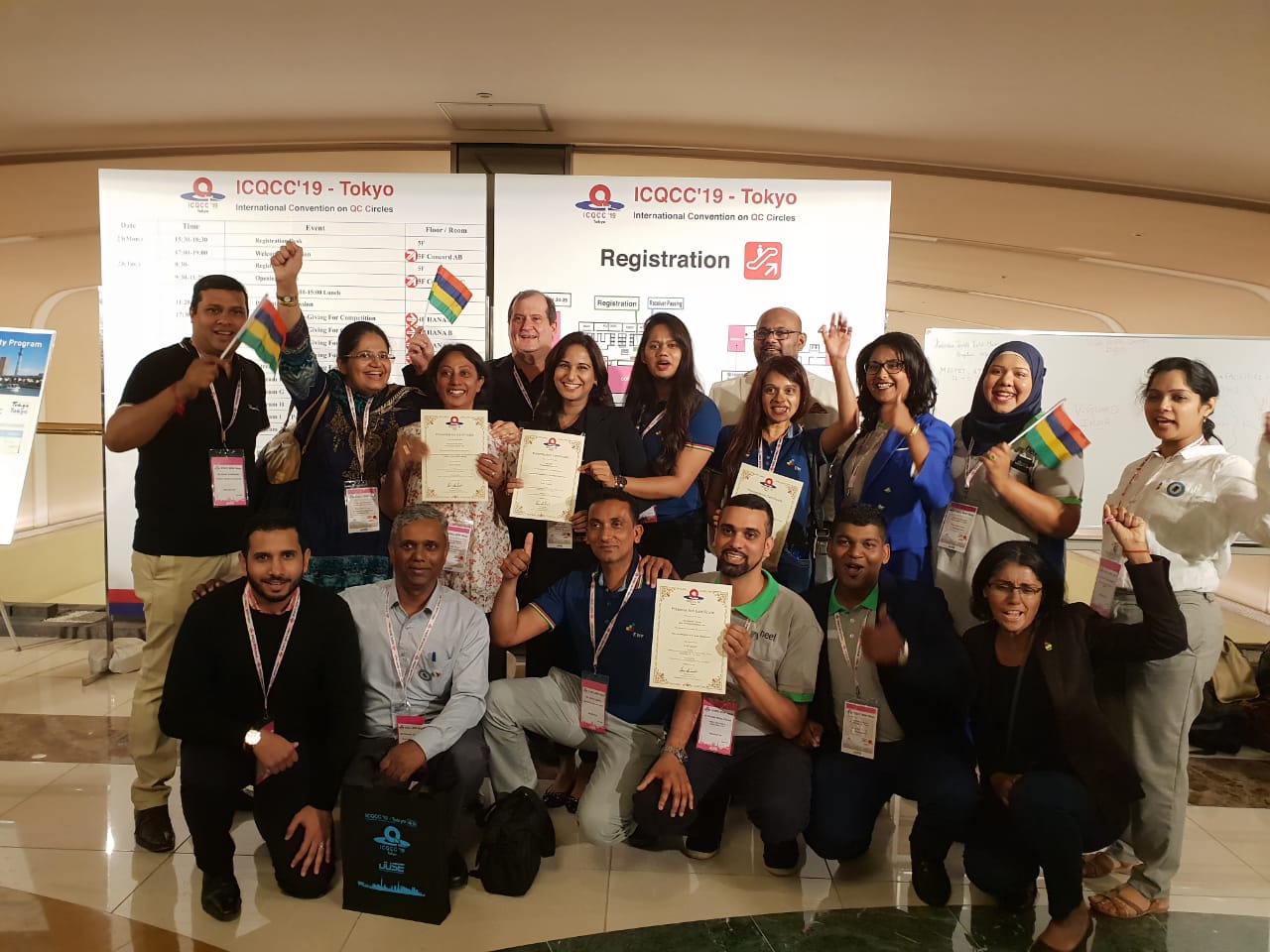 Ebène, 1 October 2019: The six Mauritian teams that were part of the delegation led by the NPCC to participate in the International Convention on Quality Control Circles (ICQCC) 2019 have delivered a brilliant performance in this global event which has seen the participation of hundreds of organisations across 14 countries.
The four Mauritian organisations that obtained the Gold Awards include Phoenix Beverages, Employees Welfare Fund (EWF), SS Business School and Neel Trading and Facilities. The other two organisations, namely Natec and Rajiv Gandhi Science Centre, won Silver Awards.
The six organisations were the Grand Winners of the second edition of the National Productivity and Quality Convention (NPQC) organised by the NPCC in May this year.
The participation of the Grand Winners to the ICQCC through the NPCC meant giving them the opportunity to rub shoulders and learn from the experience of foreign organisations that have implemented productivity and quality driven projects in their operations. The participation is also part of the NPCC's move to provide greater visibility to these organisations at an international level and enlarge their networks.
"The brilliant performance of our teams at ICQCC 2019 is testimony to the fact that Mauritian organisations have the potential and know-how to accept challenges at international levels. The NPQC platform created by the NPCC has indeed become a reference for local organisations to showcase their know-how and experience," the Executive Director of the NPCC, Mr. Deepak Balgobin says.
The members of the teams representing these organisations benefitted from a coaching facilitated by the NPCC before their departure for Tokyo. The coaching helped them deliver their presentations according to set standards. It is to be recalled that the participating teams had presented projects and initiatives that have proven an increase in productivity and quality in their operations.
"Though we have come a long way, we still have much to learn from all the teams from the different countries present at the Convention. Undoubtedly, we are now in the league of brilliant performers at the international level, such as the Philippines. However, we should not forget that we must continuously brace ourselves against the evolutions around us to maintain and consolidate our competitive edge," says the Chairman of the NPCC, Mr. Sanjiv Mulloo.
Mauritius, through the NPCC, was officially admitted last year as the 14th member of the ICQCC. The Core Country Meeting of the ICQCC had validated the membership of Mauritius with full support and proposition from India. The proposition was seconded by the Philippines and Bangladesh.
ICQCC 2019 was organised by the Union of Japanese Scientists and Engineers (JUSE) under the theme "Creating a Brighter Future Through Total Quality Management and Quality Circle Activities". It is worth noting that ICQCC 2020 will be held in Dhaka, Bangladesh.